Erasmus +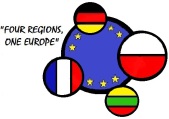 COOPERATION FOR INNOVATION AND THE EXHANGE OF GOOD PRACTICES
(WSPÓŁPRACA NA RZECZ INNOWACJI I DOBRYCH PRAKTYK)
STRATEGIC PARTNERSHIPS FOR SCHOOLS ONLY
(PARTNERSTWA STRATEGICZNE – WSPÓŁPRACA SZKÓŁ)
PROJECT NUMBER (NUMER PROJEKTU):
2015-1-FR01-KA219-015190_3
PROJECT PARTNERS:
Collège Armand Fallières, Mézin, France (Coordinating School)
Realschule Am Salinensee, Bad Dürrheim, Germany
Ignalina Ceslovas Kudaba Progymnasium, Ignalina, Lithuania
Zespół Placówek Oświatowych in Kasina Wielka, Kasina Wielka, Poland

SCHOOL COORDINATORS:
France: Agnès Lachkar-Le Quéré and Anais Matthews
Germany: Paola Eggert and Edgar Stratz
Poland: Beata Chlipała and Marta Lorenc
Lithuania: Astra Daugeliene
WORKING LANGUAGE:
English

BLOGS:
Germay
Lithuania
PLANNED VISITS:
France - December 2015 changed for March 2016
Lithuania – May 2016
Germany – October 2016
Poland – May 2017

PROJECT DESCRIPTION:
ERASMUS+ continues the tradition of the Comenius program, ran in 2007-2013. The Erasmus+ programme is a European Union (EU) funding programme which runs from 2014 – 2020. Erasmus+ is managed at European level by the European Commission. The Erasmus+ programme runs across all EU Member States, European Free Trade Area/European Economic Area countries and some candidate countries. These are known as Programme Countries, and all of them have National Agencies. Other countries, known as Partner Countries, can also participate in the programme though to a more limited extent. Groups of young people can organise a youth exchange with other young people from one or more EU country lasting five to 21 days. Young people from different countries meet and live together to jointly carry out a work programme designed and prepared by them before the exchange. This could be a mix of workshops, exercises, debates, role-plays, simulations and outdoor activities. They allow young people to develop competences; discover new cultures, habits and life-styles through peer-learning; and strengthen values like solidarity, democracy and friendship.
Our project is divided into five themes:
1) everyday life in four countries
2) art
3) the environment
3) cooking
5) local tales
All projects implementations will include project meetings and educational tours, virtual collaboration with the using of ICT. Through partnerships with schools from Germany, France and Lithuania, students will have the chance to develop their language skills, expand their knowledge about the culture and education. The teachers will have the opportunity to observe and teach classes in order to compare the teaching and learning methods in different countries so that the students will be more motivated to learn not only the foreign languages but also other subjects.